This sale has ended
Introducing the Que Chevere Pernil Dinner for 2
Translating to "how fantastic," Que Chevere is a concept developed by Michael Petrovitch as an homage to his Puerto Rican heritage and family. His new and first location is in The Market Line and a portion of all proceeds will be donated to fund Autism Awareness.

We welcome Que Chevere to the Queens Together Restaurant Association. I recently sampled this amazing dish at Pig Island 2020. Michael and his cooking were crowd favorites. Enjoy!
- Jonathan Forgash, Queens Together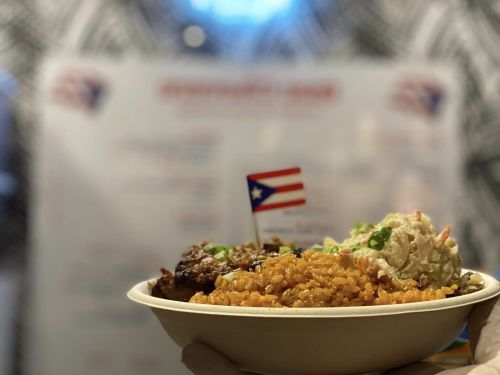 Introducing the Que Chevere Pernil Dinner for 2
$40.00
Pernil Dinner for 2. Includes Que Chevere's signature Pernil (Roast Pork), Arroz con Gandules (Rice with Pigeon Peas), Ensalada de Papa (Potato Salad), QC's 4 Award-Winning Sauces, and 2 Drinks (a Coco Rico and a Malta India). Delivery included. All orders are delivered in a Que Chevere Reusable Tote Bag. No substitutions or changes. Heat and serve!

Sale happens Black Friday (11/27)- Cyber Monday (11/30).
Delivery to take place on 12/2 and 12/3.
Delivery zones will be in Manhattan, Queens and Brooklyn
Que Chevere will contact you by email regarding delivery date and time window.